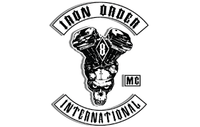 Thank you for your Support
Your support allows us continued growth and the ability to support as many local charities as we can. Check us out on Facebook to stay current with our community service efforts by searching for Iron Order Motorcycle Club International.
@IronOrderMotorcycleClub
DISCLAIMER:
Purchase of any items is done so with the purchaser assuming any and all risk. The Iron Order MC International accepts no responsibility for the wearing of any or all Iron Order MC International support gear.